Fu Qu ... Say it any way you want to

>Home Page >>RSS News Blog >>>Fu-Qu
Fu Qu is a message. This message is "No Toxins in Our Cosmetics and Foods", and Don Friesen makes such a powerful statement with this awesome image that we found on his site.
We think it fits the theme of this page perfectly - unfortunately, it was not made specifically for us, but we wish it was.
Image : © 2013 Don Friesen Illustration
 Please visit the site. The images are worth a moment of your time
This is our way of providing a platform to ourselves and our visitors to express, as an info-graphic or other image, our views of Toxins in Cosmetics and Foods.
we don't want to get sick
we don't want animals to be killed to test cosmetics
we don't want to poison our children and our environment
we don't want to be test subjects for the cosmetic and processed food manufacturers
We want promises from Governments and Manufacturers that when we buy ANY cosmetic or food product in ANY store, we are assured that ALL the ingredients are 100% good for us and our environment.
Humans can be smart. But they can also be very stupid.
We want to hang out with smart people that use smart ingredients in cosmetic and food products.
This page and this website is only for smart people that want to be sensible about their lives and their future.
Be part of the Fu Qu movement and make your feelings known
These people are saying something instead of sitting in their lounges not caring about themselves, their children or their world.
Changes take time. And change can happen, but it starts with you.
Create a picture and express your views - people will take note. Some starting tools are on this page.
No contribution is never good enough - every bit helps, no matter where you are in the world.
Get your message across about toxins in cosmetics and foods
Make your point in a picture that shows us how you feel about Cosmetic and/or Food Manufacturers that have Toxins in their Products.
Download the 2-Faced or the 4-Faced (or both) template and let's see your message (The templates are optional, you can submit any image that you have made yourself)
The image below is an example using the 4-Faced template.
Get started
First question - are you feeling 2-Faced or 4-Faced?
Then select your template to download (you can always go back to change your selection or you can submit any image that you have made yourself)
When you click either of the Faced icons above, a new window will open with the Faced template
Right click the new image and select "save image as"
Save to your desktop or wherever convenient (desktop is the easiest to remember when you upload with Picmonkey)
Then click the Picmonkey icon below (or you can use any other program that you like)
A new window will open with the Picmonkey software
Click "Edit a Photo", select and upload the Faced template from your Desktop (or from wherever you saved the Faced template)

Soon afterwards, the Faced template will show in the Picmonkey software and you are ready to play

We use Picmonkey to make our templates into masterpieces.
Click the Picmonkey icon to take you there.
Although we use Picmonkey, you can use any software that you like.

See some of our 2-Faced humour here. Have fun.
Keep it smart, funny and on topic.

Fu Qu Design tips
Try not to use a font smaller than 14.
Remember, for best contrast, use a dark text on a light background.
The best Fu Qu image size is around 800 x 600 pixels.
Designs from other awareness organisations
The image below is from EDC Europe. EDC means Endocrine Disrupting Chemicals. They are a coalition of public interest groups representing more than 31 organisations across Europe.
The link has some great image ideas that you can think about. You can view more of them here.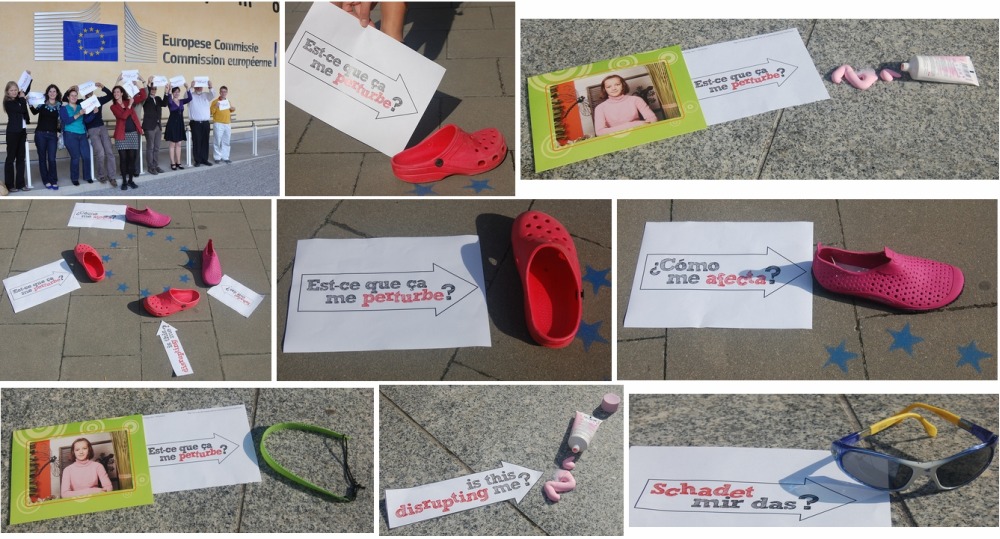 Now that you have created your MASTERPIECE, show it off to the world right here
Tell us the story behind the picture, for example:

is adding lead to lipstick really that important, or


cosmetic manufacturers that tell kids with curly hair that they will look better with straight hair, or


petrochemical ingredients in products that call themselves Natural and/or Herbal


the list is long and you can find lots of themes
Want to create something but feeling a little stuck and you need some inspiration, then
Click Here
for our Site Map. The site map is a quick reference to all the subjects that our website covers.
Select one that grabs your attention and you feel passionate about.
There are already some submissions below.
Have a look at them to see how it works and how your Masterpiece will be shown to the world.
Have a Look at the other Comments and Contributions
Click below to see picture contributions from other visitors to this page...

Keep in touch