How do Large
Cosmetic Manufacturers work?
>Home Page >>Makeup Safety >>>Cosmetic Manufacturers
Do you recognise any of these cosmetic companies and brands below?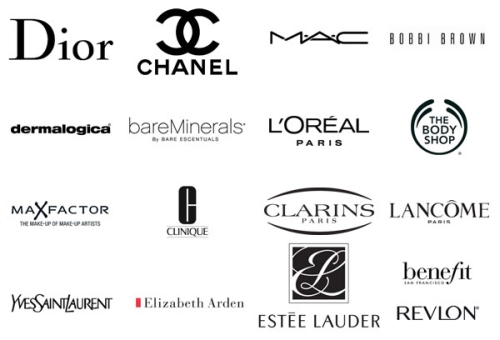 Do you have any idea how big a cosmetic and makeup manufacturer can be?
An example of a very large global cosmetic manufacturer is Procter and Gamble. Procter and Gamble (also known as P&G) are the worlds biggest manufacturer of household goods. The company produces products for approximately 4.4 billion people around the world.
They have many well know brands such as Pampers®, Tide®, Ariel®, Always®, Whisper®, Pantene®, Mach3®, Bounty®, Dawn®, Fairy®, Gain®, Charmin®, Downy®, Lenor®, lams®, Crest®, Oral-B®, Duracell®, Olay®, Head & Shoulders®, Wella®, Gillette®, Braun®, Fusion®, Ace®, Febreze®, Ambi Pur®, SK-II®, and Vicks®.
They also have operations in about 80 countries worldwide.
As do other cosmetic manufacturers, P&G work very hard to promote themselves and their brands as trusted, high quality and leaders in their field.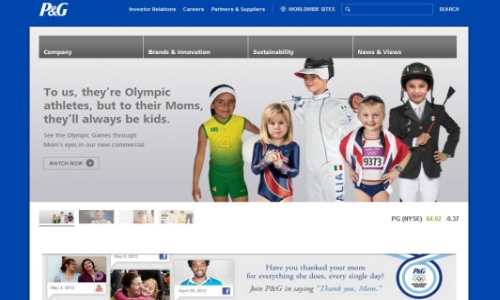 This is their website
What's the quick analysis?
nice fuzzy feeling with pictures of kids
great comments about our mums
some You Tube links
some Olympic rings, probably representing some kind of sponsorship
blue background and a non cluttered visual interface
Nothing wrong with all of that.
If you did not know who P&G are, one would think they deal with kids and mom's in some kind of relationship program that involves sports – not part of a group of cosmetic manufacturers.
What's in the detail?
they target kids (children are an increasing soft target for corporate marketing that requires much more Government regulation)
they target mothers
they target sports
they use mainstream social media such as Facebook, You Tube and other shown below to deliver whatever they are selling or suggesting straight into your personal life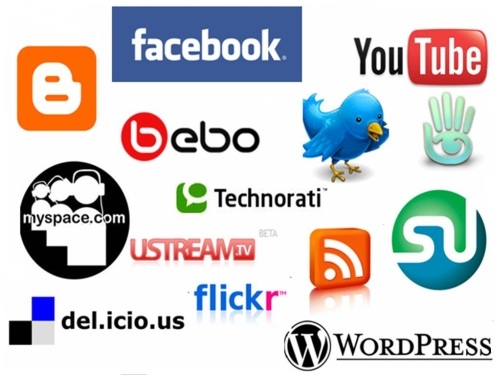 they are conscientious about their image – blue is neutral on the internet and an uncluttered main web-page means that they want their message to be clear and concise – they deal with or in kids, mothers and sports
interesting choice of words, "mom" mentioned 3 times, "trust" mentioned once, "experts" mentioned once, "thank" mentioned twice. All these words represent feelings of personal gratitude, kindness, professionalism and trust.
There is still no mention about what their products are.
So what is our view on our first impression?
they clearly have no interest to tell you what they make
a warm and fuzzy feeling of family and trust seems to be the overriding motive of what they do
what is the reason for this motive?
we know they are probably trying to sell something, so why not just come out and say it?
wasting our time by not getting straight to the point
impression seems to be more important than product
creating a warm family tied impression suggests that they are probably trying to sell something that is personal and family related – mom's + kids + trust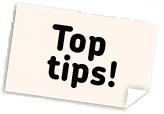 What are our tips to be a smart surfer?
don't waste your valuable time on websites that don't get to the point
be wary of trust because the internet cannot sell or show you trust
there are always 2 sides to a story and if a site uses words like "trust", then more than likely, there is "un"-trust somewhere - be extra cautious
if you really have to deal with the products on the website, then first dig deeper – often, you will be amazed at what you will find behind the blue façade (the other side of the story)
think like an inventor or an investor – never like a consumer
don't be distracted by non product related banter – thanking your mom is your personal issue – not a websites
What is the other side of P&G?
What we mean by the "other side" is looking beyond the website's image of trust, kids, moms, thank you's and warm fuzzy feelings. The following paragraphs centre on a random probe concerning one of P&G's products.
What happened?
Recall of P&G Iams dry dog food due to unacceptable levels of the toxin Aflatoxin – December 2011.
What is Aflatoxin?
It's a naturally-occurring toxin that can sicken pets. It is a by-product from the growth of the Aspergillus fungus.
Aflatoxin symptoms for dogs are sluggishness or lethargy, reluctance to eat, vomiting, yellowish eye or gum tint and diarrhoea.
Why does Aflatoxin occur?
It can occur when contaminated grains are added to pet food.
What is the truth about Aflatoxin?
The 3 paragraphs above are the media release versions from various websites. Nicely sanitised with carefully selected words so as not to alarm people and cause panic.
Most watchdog sites want to do nothing more than wrap the naughty cosmetic manufacturers on the knuckles without being too controversial – dealing in lawsuits with massive companies, like P&G, may not be in ones interest.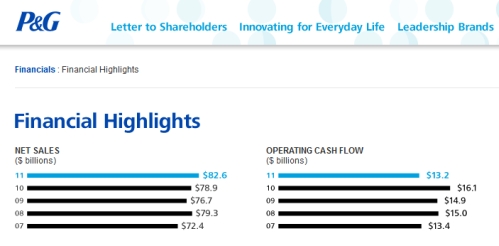 Unless, of course, you have similar cash-flow of about 13 billion US Dollars.
So what do we know so far ?
website says kids + mom + trust
they make dog food
there was a problem with some dog food as it contained high levels of a naturally-occurring toxin
this toxin makes your dog ill
not serious and no need to panic
on average, P&G spends about $35 million everyday of the year on their activities
Life carries on … or does it? (Page 2)
Cosmetic Manufacturers (Back to Top)