Natural sunburn treatment
>Home Page >>Natural Advantage Ingredients >>>Natural Advantage Recipes >>>>Sunburn Treatment Recipes
Sunburn treatment is generally a crisis moment for many of us. There are 3 types of burns and are rated in degrees of severity, as follows :
a first degree burn is red
a second degree burn has blisters
a third degree burn causes damage to the skin and the underlying muscle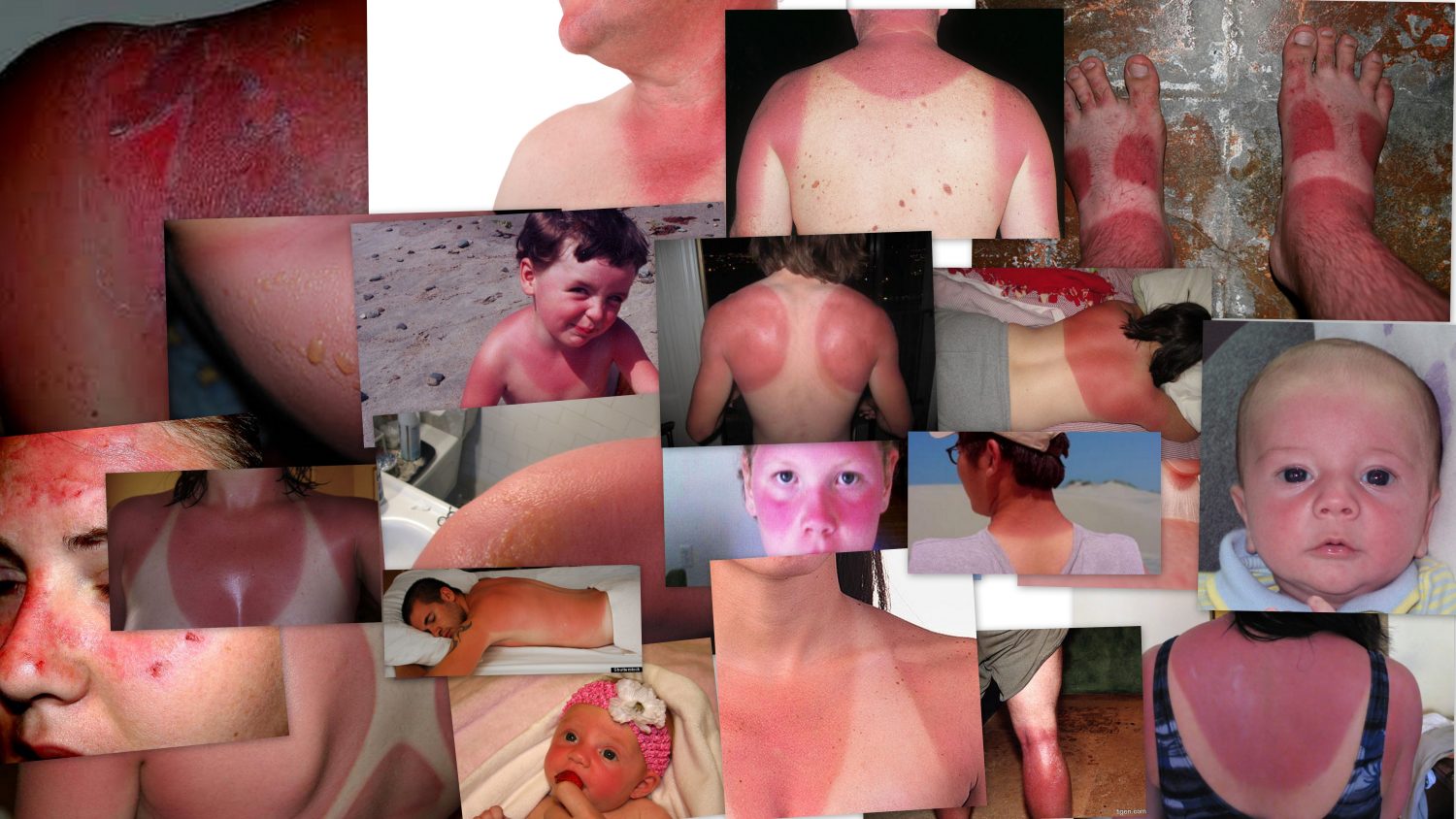 Most sunburn is a first degree burn and in severe cases it can be a second degree burn. While first degree sunburns can mostly be treated at home, second degree sunburns may require professional attention.
Small second degree burns at home, from a stove or hot object, often do not need professional treatment and can be cared for at home by immediately applying Lavender oil to the burn and then cover with a damp cloth and compress.
First degree sunburn from too much exposure on the beach or lake can really be a social damper, not to mention the discomfort for a day or two. For children, it is a lot more dramatic. No sleep, sobbing eyes and impending doom adds to the drama and trauma of unexpected sunburn.
Many of us do not travel with sunburn lotion and only realise its importance when faced with having to deal with the issue of sunburn. If the burn is small, lavender oil, a clean damp cloth and a light compression will calm the person and get the healing process working overtime. For all over sunburn, pure lavender is not practical and neither would it be safe.
A topical lotion that incorporates cooling, skin irritation relief, healing activation, moisturising and antibiotic properties is an ideal combination for a sunburn remedy.
While all these characteristics may be impossible to achieve when in the middle of an emergency, use these recipes as a guide to scavenge around to find what you can to create an effective sunburn treatment.
Lavender oil is a great anti-inflammatory and has great healing powers for sun damaged skin when used as part of a topical lotion.
We hope you enjoy using and experimenting with these natural sunburn treatment recipes and we really hope they help with life's unexpected emergencies.
Whenever possible, buy certified organic to ensure the best natural quality that is also kind to our environment during the manufacturing process.
Please don't forget to read our essential oil guide - they are very strong ingredients and should always be used with caution.
---
Recipe 1 – Witch Hazel Sunburn Lotion
Ingredients :
2 tbs. clean water
1 tbs. witch hazel floral water
125 ml. baking soda
1-2 drops peppermint oil
Mix all ingredients together.
Shake well before applying.
Gently apply to sunburned skin and allow to dry. Reapply, if necessary.
Which hazel floral water is both soothing and antiseptic. A natural remedy for psoriasis, eczema, aftershave, cracked or blistered skin, insect bites and, of course, sunburn treatment.
Click here for measurement conversion tables
---
Recipe 2 – Cucumber and Rosewater Sunburn Lotion
Ingredients :
Cucumber
Glycerine
Rosewater floral water
Squeeze out the juice from a chopped cucumber.
Measure the cucumber juice and add the glycerine and rose-water in equal parts.
Blend well and gently apply to sunburned skin and allow to dry. Reapply, if necessary.
Rosewater floral water is soothing and cooling to the skin. It can be used on all skin types, especially dry and sensitive skin.
Click here for measurement conversion tables
---
Simplicity makes it easy to make and share
These recipes are simple to make and easy to use. Most ingredients are available from local health shops. Occasionally, you may have to buy some ingredients on the internet.
If the ingredients are not available in your country, always check your local laws to make sure that you can import cosmetics into your country - some countries restrict the import of cosmetic ingredients.
These natural sunburn treatment recipes are probably just the tip of the iceberg. There are probably many more favourites out there.
If you have one that you love and would like to share, we would all be very grateful and so would our community.
You can send one (or some) to us by using the form below.
Do You Know the Best Natural Advantage Sunburn Treatment Recipe?
One that feels great to use, easy to make and is kind to our bodies.
If you have something great and you want to share it then this is the place to do just that.
Here's how to do it ...

Natural Sunburn Treatment Recipes (Back to Top)